A Stirling sale for Dohne breeder
Andrew Miller 11 Nov 2016, Stock & Land
STIRLING DOHNES – Total clearance of 50 to $1900, av $1463.
The principal of a western Victorian Dohne stud says his latest annual on-farm sale "put me on the map", after a total clearance and near doubling of the average price.
Murray Rogerson's Glenthopmson Stirling Dohnes cleared all 50 rams on offer, with top prices ranging from $1750 to $1900.
"It's a tremendous sale, it just puts me on the map, it really does," Mr Rogerson said.
"It is a typical example of people who are short of rams, and they are short of good Dohne types.
"I think it is a meat and wool sheep and we are getting more to the stage were we are seeking a type, we are polarising to a type, rather than just chasing sheep here and there."
He said he had been concentrating on getting the wool, on his Dohne flock, right.
"These particular sheep have the wool's right; it's the better wools on a meat sheep, we have still retained the Dohne shape, but we have perfected the wool."
Sale topper, lot number six, ST150129, sired by ST130363, was a triplet and recorded a maternal wean ratio index (the weight of lamb weaned and adjusted to 100 days divided by the weight of ewe at weaning) Stirling ADWR of 0.51. The ram had a Dohne index value of 143.3.
It had Australian Sheep Breeding Values (ASBV's) for meat of a post weaning weight (PWT) of 4.8kilograms, a post weaning eye muscle depth (PEMD) of 0.3mm and a post weaning fat (PFAT) of -0.2.
The August 2015 drop ram recorded wool ASBV's of a yearling clean fleece weight (YCFW) of seven per cent, a yearling fleece diameter (YFD) of -0.1microns and yearling fibre diameter coefficient of variation (YDCV) of -0.7pc.
It went to Gippsland buyer, Tony McNeilly, Seaspray.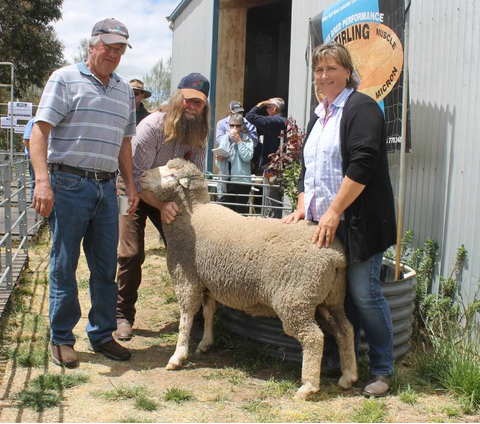 The McNeillys, with the top price ram and Stirling principal Murray Rogerson. Picture: Andrew Miller.
"The lower grade rams built up the average but we got our pick and were pretty happy with the price we paid for them," Mr McNeilly said.
"We are finding the Dohnes very suitable, they are performing well.
"They are dual purpose, and their fertility is the big advantage.'
Mr McNeilly said he had been using Dohnes for about eight years.
"We have purchased from other studs and we are having a close look at Murray's stock and are pretty impressed by them.
"But we have got to keep the wool right in our climate, which he has to here as well."
Second top price of $1850 was paid for two rams, by Y Worry Pastoral Company, Cavendish.
Buyers came from Tasmania, New South Wales and Victoria, with several picking up a number of rams.
Volume buyers included LV Pastoral, Woorndoo, (12 rams), Somercotes, Tasmania (11) and RJ and S Metcalfe, from the NSW Riverina (seven).
The Helmsman auction was run by Landmark.