HISTORY – Arguably Australia's most reflective Uardry daughter stud, founded in 2005 with 820 embryo transfers from 20 Uardry flushing ewes in 5 years, selecting for soft-volumed, balanced maternal off grass with damp climate wools and high wean ratio's.
Uardry additions 2006-09, 490 ewes; 2010 $6000 Dubbo National ram; 2012 dispersal, $5000 sire, 82% of 2006-08 specials, 250 selected tops from 78% of 2012 ewe lamb drop, along with 600 doses of semen. Perhaps the second highest purchase of quality females on the day topping over $100,000. The stud is classed by former Uardry manager Chris Bowman.
CLIMATE – Situated at Chatsworth 60 kilometres east of Hamilton in Victoria. Although the 51 year average rainfall is only 568mm, being south of the divide the moisture-laden winds off the Bight leave a misty damp imprint dripping from the trees between Anzac Day and Remembrance Day on soils varying from granitic to sandy brown loams.
SIZE IS ACQUIRED CHILDHOOD PASSION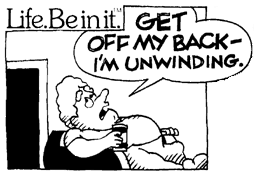 Conversion Efficiency:
Fish 1.2 to 1
Chicken 2 to 1
Pig 3 to 1
Lamb 4 to 1
Beef 8 to 1
STIRLING A.D.W.R – MEASURING EFFICIENCY, DECREASING SIZE. ACCLIMATIZE YOUR SHEEP – BUY LOCAL
TWO MAJOR FAMILIES – In 2014 2 major families were formed. The Uardry wool family of 120 ewes places emphasis upon heavier cutting and yielding, white, damp-climate, crimp-defined, wools. In 2014 the family cut 5.2 Kgs or 0.6Kg more than the Wean Ratio family under commercial grazing conditions including a whole-stud grain ban.
The Wean Ratio family of 120 ewes with emphasis upon increasing the weight of lamb weaned to the weight of ewe at weaning. This not only controls efficiency but also size and is accrued from season to season as a multi-year figure and from generation to generation as a single-year figure being called Accrued Daily Wean Ratio.
A further smaller meat and fat family of 100 ewes is used to develop meat and drought principals in the breed.
Two other small outside families include an ultra-fine Merryville Foundation flock and a Purebred Dohne Blackfoot flock both founded in 2010 and both making slow progress.
ARGUABLY AUSTRALIA'S MOST REFLECTIVE UARDRY DAUGHTER STUD
Opposite is the 2014 joining Dam List within her Sire's Grouping. The 287 ewes were sired by 63 different sires leaving an average of 4.6 ewes per sire. 41 sires were Uardry, 8 Stirling, 3 Macquarie, 3 DD, and 1 each of Roseville Park, Larrapinta, Hendrick, Koobelup, Havelock Park, Mt. Alma and Chirniminup.
107 of the group are retained 2012 drop Uardry ewe lambs from 250 purchased which were classed out of 880 or 78% of the total 1130 in the drop.107 from 880 is a retainment rate of 12% indicating the quality that already existed within the stud. The % retainment rate for each of these latter sires is highlighted in green.
The 51 05-06-07-08 drop Uardry ewes are retainers from 93 or 82% of the total specials in these age groups on dispersal day. Again 51 of 93 is a retainment rate of 55% in these already heavily-classed ewes testifying the quality which exists in the Stirling flock.
Click here to download joining list
FOUR MAJOR TRAITS AT 1 PERCENTILE
| | | | | | | | | | | | | |
| --- | --- | --- | --- | --- | --- | --- | --- | --- | --- | --- | --- | --- |
| Animal ID | WWT | PWT | YWT | PFAT | PEMD | YCFW | YFD | YFDCV | YWEC | NLW | MWWT | DOHNE |
| ST140079 | 5.8 | 6.7 | 8.2 | -0.2 | 0 | 16.4 | -0.1 | -0.9 | 23 | 0% | -0.4 | 143.1 |
| Accuracy | 73 | 71 | 75 | 61 | 67 | 67 | 82 | 73 | 41 | 41 | 52 | 50 |
| Percentiles | 0.7 | 0.8 | 0.9 | 90 | 85 | 1.3 | 70 | 30 | 74 | 62 | 87 | 13 |
ST140079, a 0068 great grandson is possibly the best wooled Dohne ever bred at Stirling. He also processes exceptional breed figures.
His dam's Accrued Daily Wean Ratio at 8 years of age is 6/0.72 or 7 percentile on-property and her NLW is 10 percentile within breed. He is a weaned twin and his conformation is average to very good in all areas.
This year he has been A.I.ed to 60 randomly selected ewes from the wool family competing against the 2015 Hamilton Sheepvention $10000 Macquarie ram MD137141 who is also A.I.ed to 60 randomly selected ewes from the same wool family. He will be on display at Launceston, Bendigo, Hamilton and several other Western District Shows during 2016 and is pictured below.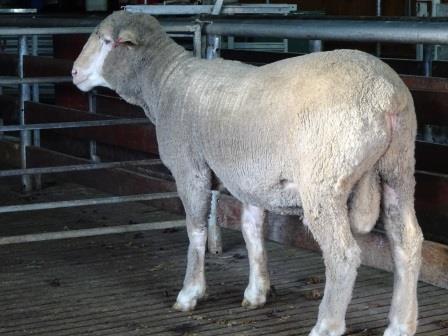 DOHNE POINTS OF DIFFERENCE
DIETARY FIBRE – My personal decision to breed Dohnes was driven by the conversion of dry summer feed, excess to the spring flush into a usable product. Dohnes and Dorpers seem to be the only developed breeds that do this with ease.
NON-DECIDUOUS – A visiting cattleman observed that l didn't use electric fences yet my cattle appeared to do little fence damage. He then quickly noted "ah they are rubbing on the redgums".
Most sheep and cattle are deciduous which irritates and causes them to rub on what ever is available-the fences, if there is nothing else. Crossbred sheep are very irritable but Dorpers are notorious and require waterproof fencing.
Both Merinos and Dohnes are designed to be non-deciduous in order that their wool may be harvested and subsequently produce few fence problems. The Dohne's South African inherited ability to high jump is both a flocking and a joining trait.
MEDICAL WOOL – Education spending as a % of GDP from 1980 to 2012 fell from 5.7% to 5.1% whilst health over the same period rose from 6.3%to9.7%. Health is the new economy.
lt has recently been discovered that once the prickle factor is taken out of wool the product actually assists in the control of eczema, an endemic and increasingly more common disease throughout the Australian community. Having had it for 40 years ,l found 2 factors, stress and sudden skin temperature and humidity fluctuations to be central to its occurrence. Wool is a hollow natural fibre with seemingly good ability to control these latter 2 problems.
At the 2012 Dohne A.G.M. l asked for discussion to implement recalibration of the comfort factor parameter from 30 down to 26 microns where the prickle factor is eliminated. The Dohne comfort factor is superior to Merinos of similar micron and medical wool could become our main lifeline and point of difference against all breeds and particularly meat breeds. Shearing dates, management and marketing will become imperative.
ACCLIMATIZATION – Due to their inheritance from the pig and poultry industries with climate and ration control the A.S.B.V. system reflects feed and climate linkage inaccuracies in natural grazing zones. A substantial solution would be to feed all progeny back through the system but 98% of all rams go to abattoirs or commercial producers.
The 2015 trait results for Stirling Dohne ( graphed click here ) indicate a massive increase of at least 20 percentile points in 3 E.B.V. measurements, Yemd, NLW & index with the introduction of the very high quality Uardry purchases during the 2 prior years. The largest shift of 22 percentile points occurred in NLW which has been notorious for environmental interference.
The 2014 joining included 3 remaining ewes from the 2006 drop. ST060090 produced twin females with an index average in the top 5 percentile on-property.ST060078 produced twins including the top retained ram. ST060015 produced a single being the third top on-property priced ram. Results that were considerably and consistently better than the very high quality imported Uardry sheep.
THE SIMPLIFIED ANSWER TO CLIMATE IS TO THINK GLOBAL BUT ALWAYS BUY LOCAL.